📢📢Read full post in Download Silo Facebpook group https://www.facebook.com/groups/downloadsilo/posts/1327763084442943/
📢📢Attend Facebook Live session here https://fb.me/e/4HurhgZpd
🔥6 Winners ~ Brillian Directories LTD Facebook Live Session + Giveaway🎁🎁🎁🎁🎁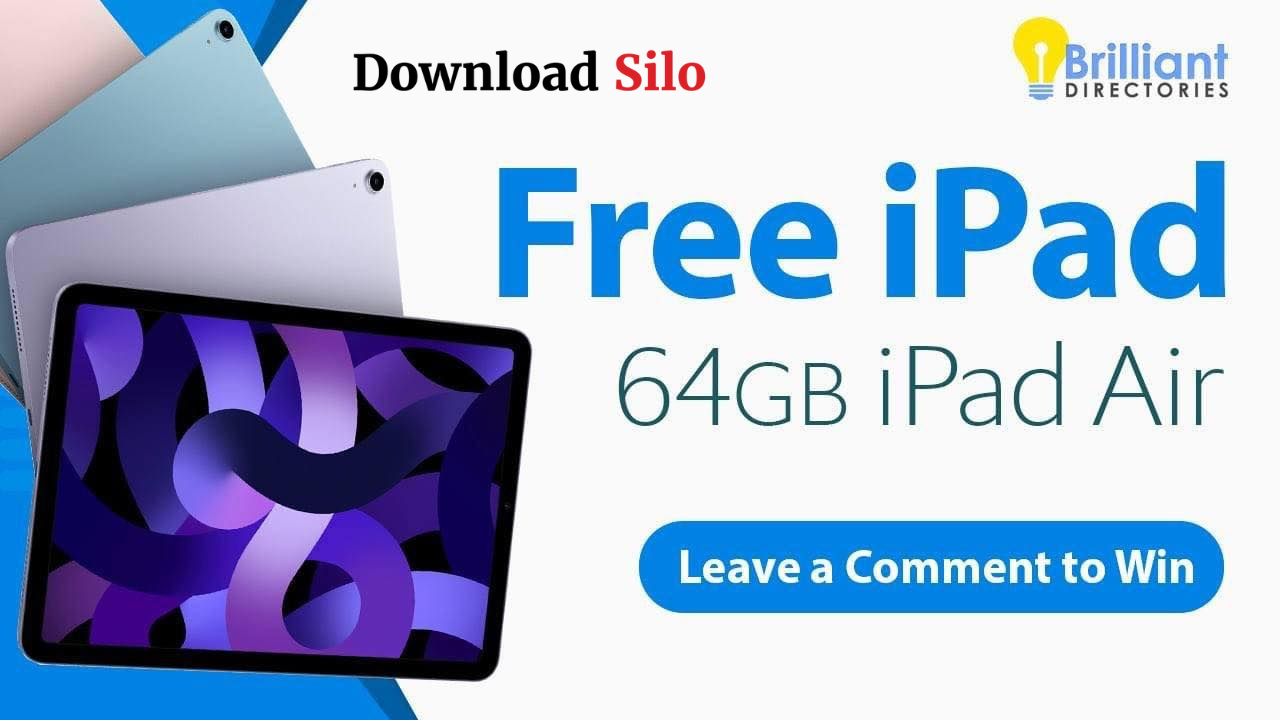 ✅⏰ 12 pm (noon) UTC+8 / 9.30 am IST / 5 am CET 📅 Thursday, 2 February 2023
✅ ⏰ 8 pm PST / 11 pm EST/ 📅 Wednesday, 1 February 2023
✅ Deal Link: https://go.downloadsilo.com/brilliantdirectories
I would host the co-founder and CEO of Brilliant Directories, Jason Haloossim . He shall showcase how to build revenue streams with memebership and directory websites.
✅Six giveaway prizes to be won
x1 Special Grand Prize* one unit of 64 GB iPad Air
x1 Plan A LTD ($89/lifetime)
x1 Plan A LTD ($89/lifetime)
x1 Plan A LTD ($89/lifetime)
x1 Plan A LTD ($89/lifetime)
x1 Plan B LTD ($197/lifetime)
*T&C Apply: This special grand prize will ONLY be triggered when there is a minimum of 300 live attendees during the live session
✅You must be present during this Facebook live in order to stand a chance to win the giveaway
✅Kindly comment Building membership and directory websites is easy with Brilliant Directories with a GIF to confirm your intention to attend the FB live session.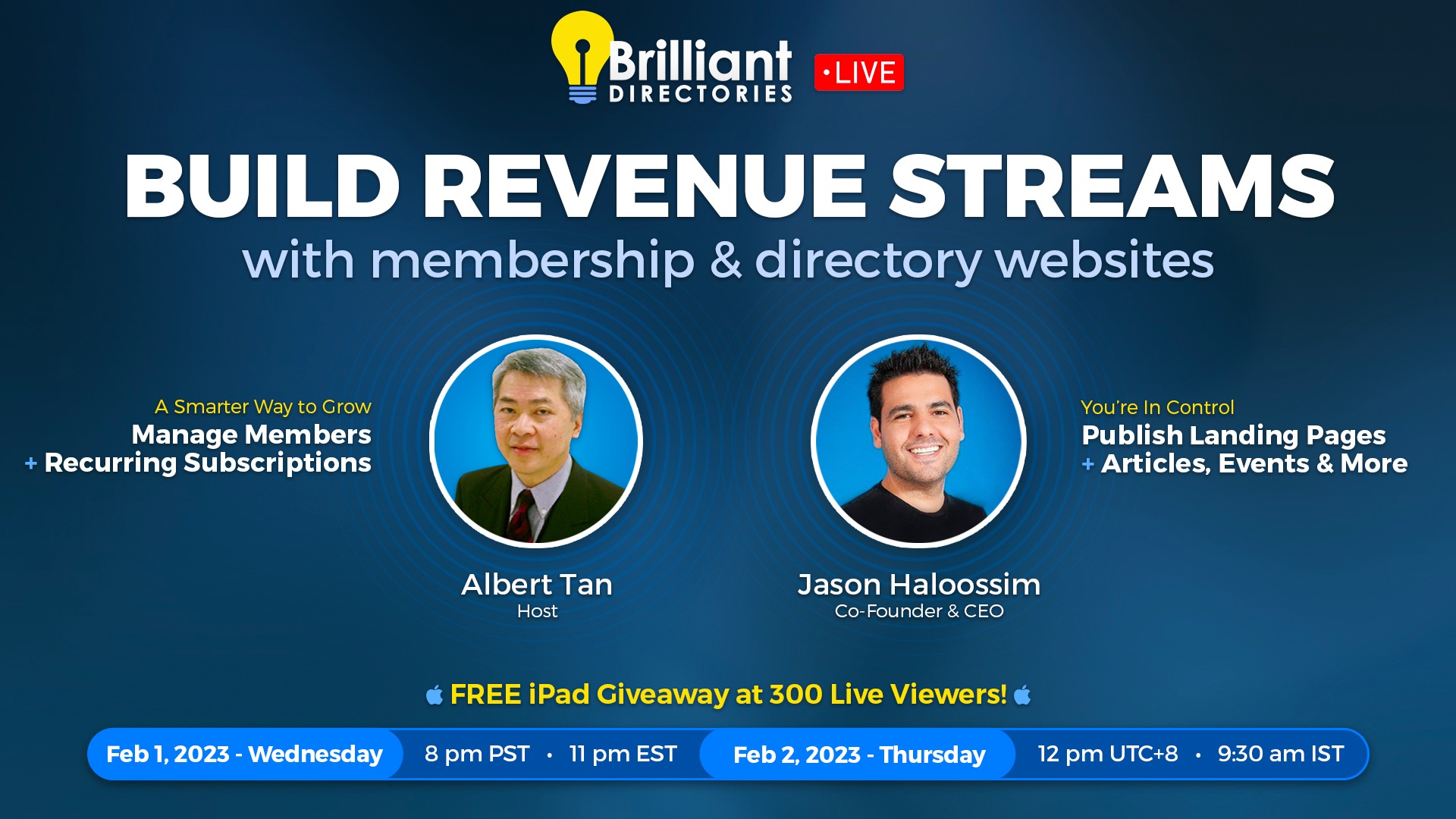 ✅Please participate in the live session to understand the product and get your queries clarified from illow team.
✅Please give permission to Wave.video to display your profile and name during the live session, when you post a comment or query by going to the following link https://wave.video/lives/facebook
✅This will help in ensuring that you are part of the giveaway. In case your name and profile are not displayed, please comment with your name.
✅The giveaway would be announced during the session and will need to be accepted by being present during the live session, else it would be forfeited.
===
⭕What is Brilliant Directories?
✅ Brilliant Directories is an all-in-one platform that allows you to launch, manage, and monetize your own Membership Sites & Business Directories
✅ Create members-only sites, grow your recurring income, and dominate your market without juggling different tools.
⭕TL;DR
✅ Attract and engage your members with a fully managed and hosted solution that looks great on every device
✅ Maximize revenue with powerful options to sell subscriptions, leads, digital products, event tickets, and more
✅ Alternative to BuddyBoss, MemberPress, Wishlist Member, ListingPro
✅ Best for Solopreneurs, Freelancers, SMEs, Marketing Agencies, Web Designers, and Agencies who want to take advantage of membership programs, monetize their sites, and maximize their market.
⭕Some Interesting Use Cases
✅ Create an online directory to manage members & member profiles.
✅ Create a lead-generation website for businesses & professionals listed on the website.
✅ Marketing agencies need to create membership websites for clients.
✅ Organizations want to create a website to manage their members, collect dues/subscription fees & distribute content/information to them.
⭕Why choose Brilliant Directories?
✅ Ready-made websites & easy to customize.
✅ Manage members & recurring subscriptions.
✅ Fast payment processing & BrilliantDirectories never takes a cut.
✅ Publish landing pages, articles, events & more.
✅ Send newsletters & integrate with Zapier.
✅ Simple setup and ease of use.
✅ Available on a lifetime deal for a limited period.
⭕Useful Links😇
✅ 🛒Deal link: https://go.downloadsilo.com/brilliantdirectories
✅ Free 7-day trial account: https://www.brilliantdirectories.com/freetrial
✅ Vidoe Tutorials: https://www.brilliantdirectories.com/directory-website-video-tutorials
✅ KnowledgeBase: https://support.brilliantdirectories.com/
✅ Roadmap: https://trello.com/b/fyX3hsyL/brilliant-directories-roadmap
✅ Support: social@brilliantdirectories.com
✅ Facebook Community: https://www.facebook.com/groups/BrilliantDirectories