📢📢Read full post in Download Silo Facebpook group https://www.facebook.com/groups/downloadsilo/posts/1334087953810456/
📢📢Attend Facebook Live session here https://fb.me/e/42vdFzYmA
🔥5 Winners ~ Bullet.so LTD Facebook Live Session + Giveaway🎁🎁🎁🎁🎁
✅ 🕙10 pm UTC+8/7.30 pm IST/9 am EST/3 pm CET
✅ 📅 Tuesday, 31 January 2023
✅ Deal Link: https://go.downloadsilo.com/bullet
I would host the founder of Bullet.so, Aswin Kumar. He shall showcase how to build professional-looking websites using only Notion.
✅Five giveaway prizes to be won
x1 1-site Bullet LTD ($49/lifetime)
x1 1-site Bullet LTD ($49/lifetime)
x1 1-site Bullet LTD ($49/lifetime)
x1 1-site Bullet LTD ($49/lifetime)
x1 1-site Bullet LTD ($49/lifetime)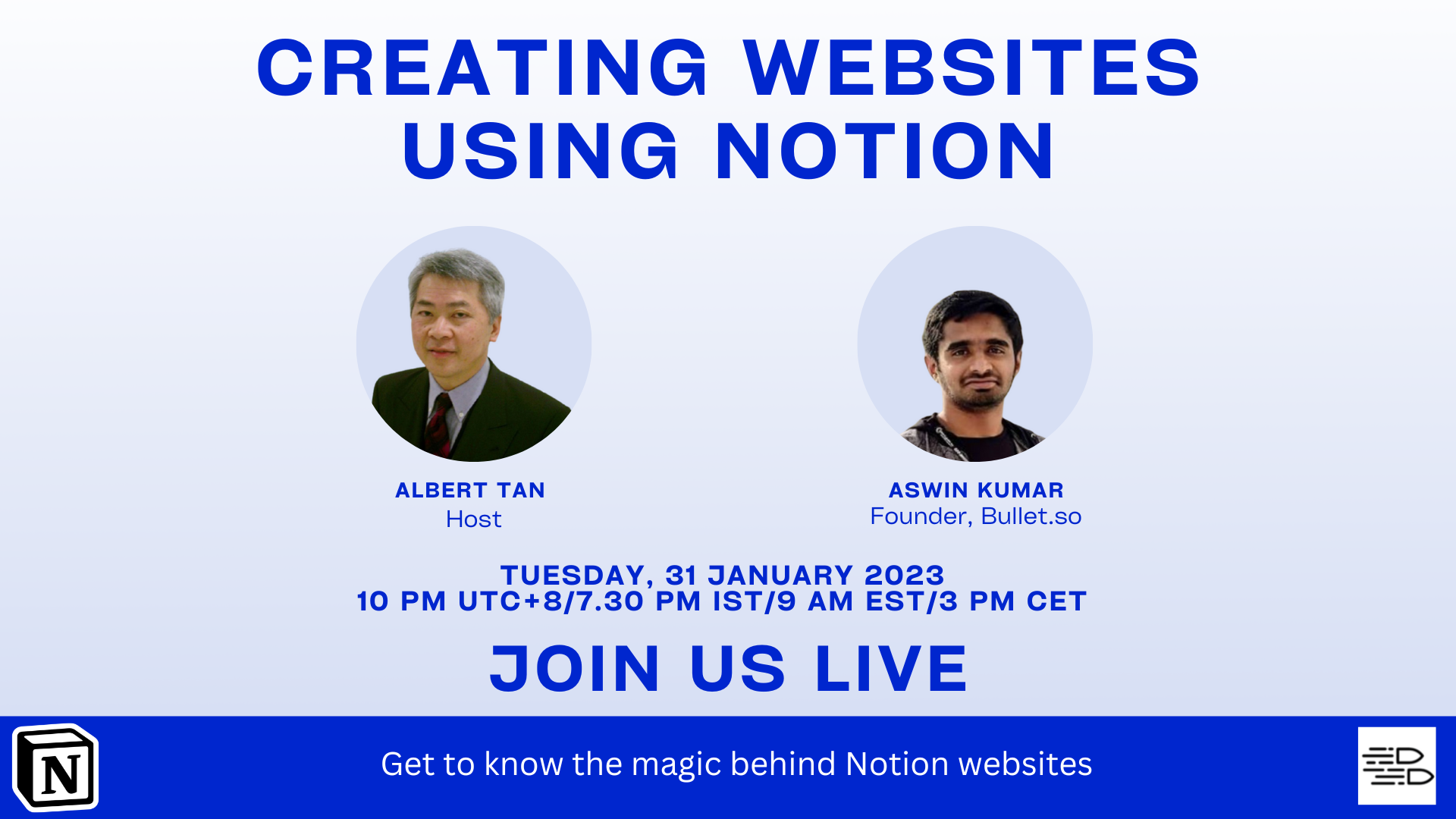 ✅You must be present during this Facebook live in order to stand a chance to win the giveaway
✅Kindly comment Notion to website creation is easy with Bullet.so with a GIF to confirm your intention to attend the FB live session.
✅Please participate in the live session to understand the product and get your queries clarified from Bullet.so team.
✅Please give permission to Wave.video to display your profile and name during the live session, when you post a comment or query by going to the following link https://wave.video/lives/facebook
✅This will help in ensuring that you are part of the giveaway. In case your name and profile are not displayed, please comment with your name.
✅The giveaway would be announced during the session and will need to be accepted by being present during the live session, else it would be forfeited.
===
⭕What is Bullet?
✅ With Bullet, you can transform your Notion page into a beautiful website
✅ Create, publish, and manage your website without ever leaving Notion!
✅ Alternative to: Super.so, Feather.so, HelpKit, Potion
⭕TL;DR
✅ Zero dependencies on developers - Anyone can create a website in 3 simple steps. No more stealing developer's time for every little bump in your website journey.
✅ Search Engine Optimized - Write and Rank. Lighthouse scores, page speed insights and other SEO aspects are taken care of.
✅ Launch in less than 60 minutes - Simply duplicate a template from Bullet's gallery to your Notion page and customize any element. No design or coding skills needed.
✅ All new liquid syntax to save your day - Publish hundreds of pages at once. Confused how that's done? This surely needs a separate landing page created by Bullet. Off we go!
⭕Useful Links😇
✅ 🛒Deal link: https://go.downloadsilo.com/bullet
✅ 7-day Free Trial Account: https://app.bullet.so/signup
✅ KnowledgeBase: https://bullet.so/help/
✅ Roadmap: https://roadmap.bullet.so/
✅ Support: https://bullet.so/contact-us/
✅ Facebook Community: