📢📢Read full post in Download Silo Facebpook group https://www.facebook.com/groups/downloadsilo/permalink/1329097430976175
📢📢Attend Facebook Live session here https://fb.me/e/3f34Fhi9q
🔥5 Winners ~ CastNest LTD Facebook Live Session + Giveaway🎁🎁🎁🎁🎁
✅🕙10 pm UTC+8/7.30 pm IST/9 am EST/3 pm CET
✅ 📅 Friday, 27 January 2023
✅ Deal Link: https://sendthis.link/castnest
I would host the founder of CastNest, Abdul Wajid Lakha. He shall showcase how to build revenue streams with memebership and directory websites.
✅Five giveaway prizes to be won
x1 Tier 1 LTD ($49/lifetime)
x1 Tier 1 LTD ($49/lifetime)
x1 Tier 1 LTD ($49/lifetime)
x1 Tier 1 LTD ($49/lifetime)
x1 Tier 2 LTD ($179/lifetime)
✅You must be present during this Facebook live in order to stand a chance to win the giveaway
✅Kindly comment CastNest with a GIF to confirm your intention to attend the FB live session.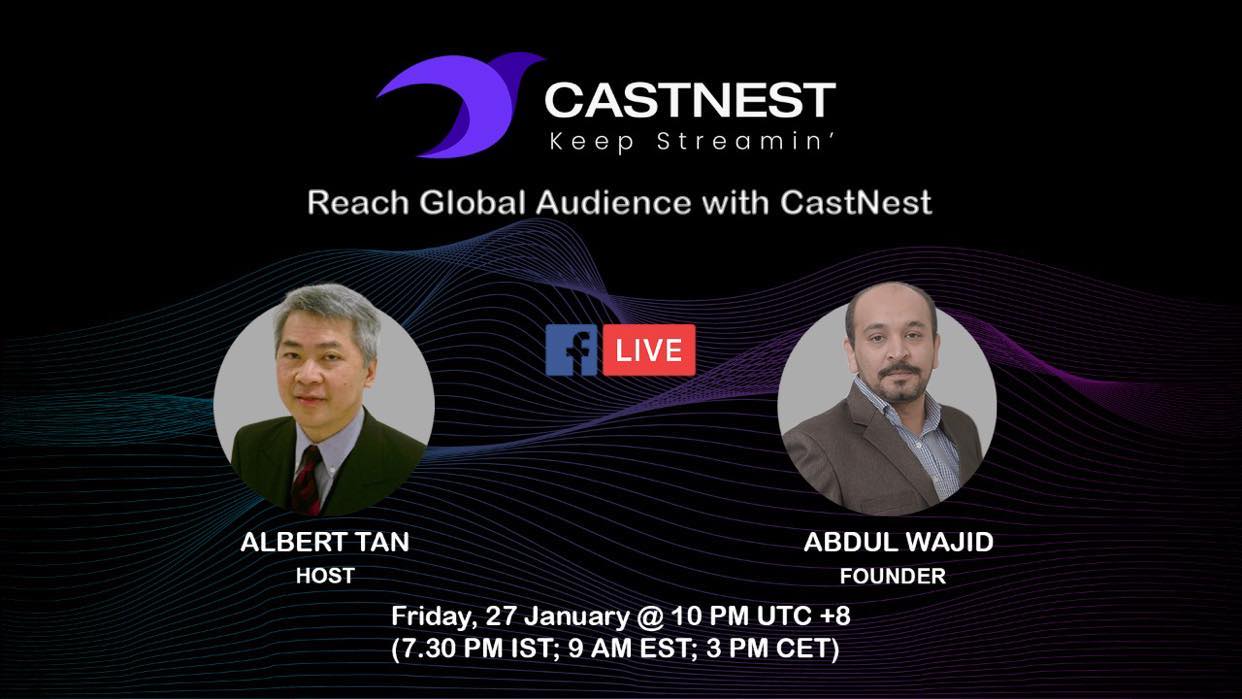 ✅Please participate in the live session to understand the product and get your queries clarified from illow team.
✅Please give permission to Wave.video to display your profile and name during the live session, when you post a comment or query by going to the following link https://wave.video/lives/facebook
✅This will help in ensuring that you are part of the giveaway. In case your name and profile are not displayed, please comment with your name.
✅The giveaway would be announced during the session and will need to be accepted by being present during the live session, else it would be forfeited.
===
⭕What is CastNest?
✅ CastNest is a video platform that makes it easy to share and monetize your livestreams or recorded content everywhere
✅ It's a perfect one place solution for all Live Stream and VOD
⭕TL;DR
✅ Broadcast your livestreams and video content across 30+ social platforms to maximize your global reach
✅ Monetize your content with pre-roll, mid-roll, and post-roll ads to boost content revenue
✅ Alternative to Dacast, Livestream
⭕What is so special about CastNet?
✅ CastNest is the all-in-one Video Platform with great features
✅ Broadcast your live and virtual events in minutes without any hassle
✅ Support Multiple ingest protocol: RTMP, HLS, WebRTC and SRT
✅ VOD Solution
✅ Multistream to 30+ Social Platforms
✅ Infinite Concurrent Viewers
✅ Liberty to Monetize your content in your own way
✅ And Multi-Layer Securities.
⭕Useful Links😇
✅ 🛒Deal link: https://sendthis.link/castnest
✅ Free forever account: https://app.castnest.com/register
✅ Help Documentation: https://support.castnest.com/
✅ Facebook Community: