📢📢Read full post in Download Silo Facebpook group https://www.facebook.com/groups/downloadsilo/posts/1322610741624844/
📢📢Attend Facebook Live session here https://fb.me/e/2FLcVsJO6
🔥Tricks & Trades of Negotiations ~ AMA Session With Yash Shah, Co-founder of Clientjoy | Facebook Live + Giveaway🎁
#clientjoy #LTD #giveaway #webinar #facebooklive #tricks #trades #negotiations
✅🕙10 pm UTC+8 / 7.30 pm IST / 9 am EST/ 3 pm CET
✅ 📅Monday 13 February 2023
Tricks & Trades of Negotiations
🛒Deal link: https://sendthis.link/clientjoy (use coupon code DOWNLOADSILO to get 15% off)
⭕New Updates
✅ Power of AI is now in Clientjoy with Joyassist helping in writing emails
✅ Lead forms to embed on website and landing pages to bring leads straight in Clientjoy and nurturing them in email sequencing
✅ Integration with Konnectzit
---
✅ I would host the founder of ClientyJoy, Yash Shah. He will deep dive into the tricks and trades of negotiations with prospects and clients.
✅ One giveaway prize to be won
x1 Clientjoy LTD ($149 value)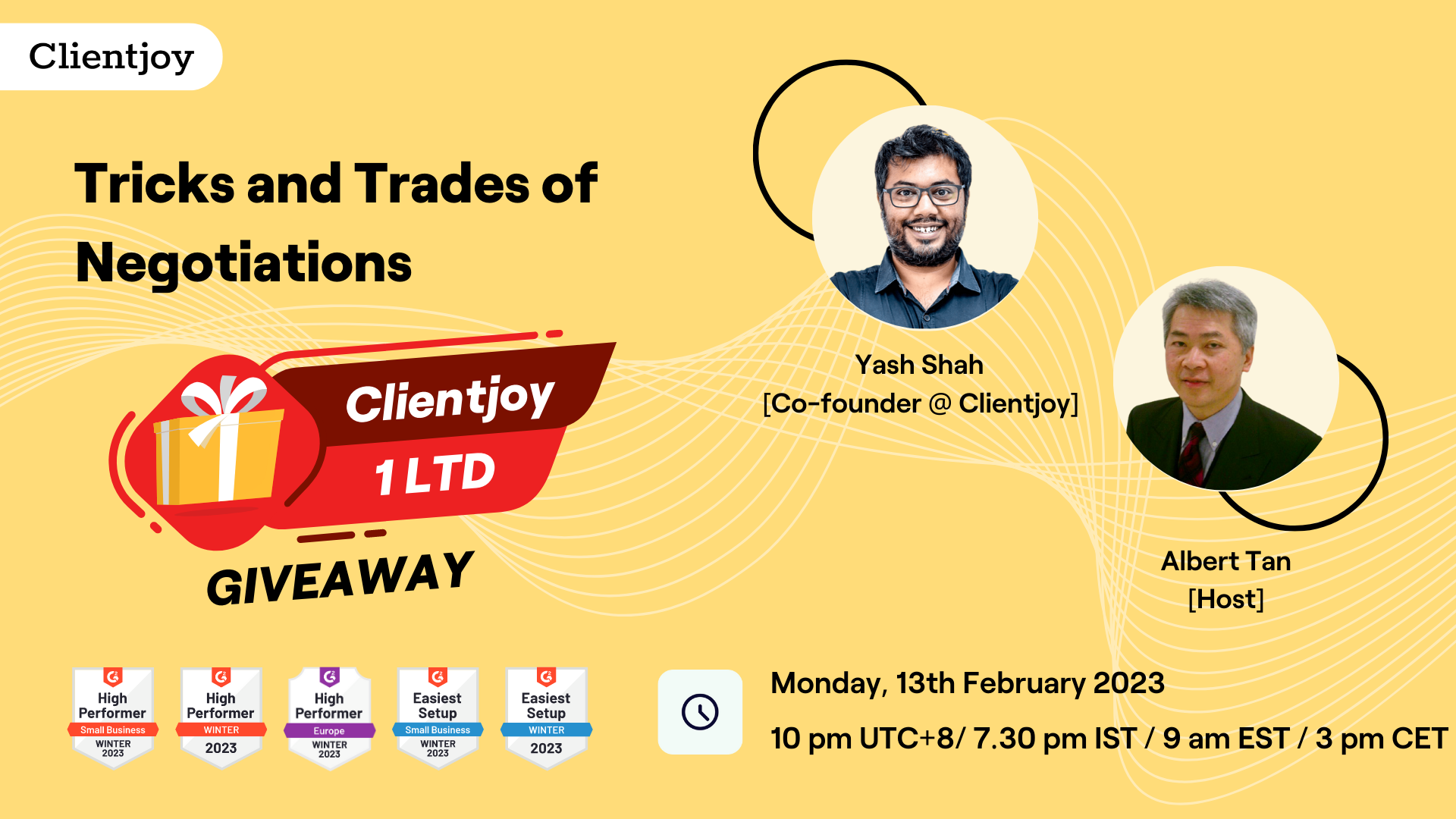 ✅ You must be present during this Facebook live in order to stand a chance to win the giveaway
✅ Kindly comment Negotiations with a GIF to confirm your intention to attend the FB live session.
✅ Please participate in the live session to understand the product and get your queries clarified from the ClientJoy team.
✅ Please give permission to Wave.video to display your profile and name during the live session, when you post a comment or query by going to the following link https://wave.video/lives/facebook
✅This will help in ensuring that you are part of the giveaway. In case your name and profile are not displayed, please comment with your name.
✅The giveaway would be announced during the session and will need to be accepted by being present during the live session, else it would be forfeited.
===
⭕Why use Clientjoy?
▶ All in 1 CRM: Clientjoy CRM has the power of 8 tools in 1, You can manage your entire business, typically a journey from a Prospect to a Client, & everything in-between
▶ Client Management: Manage your clients seamlessly using Clientjoy Client Portal, Embed over 1000+ Apps like Asana, Figma, Google Data Studio Reports, Your Clients Website, and Google Drive allowing your clients to get a real-time view of your work.
▶ Support: Supremely acclaimed Support Team with an average Response time of 15 mins in the majority of geographies.
▶ Rare Find: Clientjoy is the only CRM that packs 8+ tools within it and still offers a Lifetime Deal at a super reasonable price.
⭕Killer Features
✅ Grow your Agency:
Know which Leads to Focus on next
Create and Manage Meetings, Tasks, and Calls with your Leads and Clients
Manage your Sales Pipeline with high efficacy and transparent data
Let your leads and clients book a time of their convenience using our Scheduler
Connect your Email with Clientjoy to keep your Conversations with Leads & Clients Contextual
Create and Re-Use your own Proposal Templates with Merge Fields
Get your Proposals, Quotes, Estimates, or Contracts E-Signed to reduce Turn Around Times
See when your Leads and Clients Open your Proposals so you can time your Follow-ups
✅ Get Paid on Time:
Bill your clients in multiple currencies with compliant invoices in Clientjoy
Manage your Tax Rates across items and categories as per your location
Work with One time, Recurring & Split Payment systems
Let Stripe, Paypal, or Payoneer charge your clients recurringly so you always get paid on time
Set up automated reminders for your clients so you never have to manually follow up
✅ Manage your Clients:
Keep your client updated on daily basis using our White-labeled Client Portal
Implement Analytics, Chats, and everything in between to make your Client Experience Awesome
Manage access to the client portal for each of your client contacts
Track each and every interaction and activity with your clients on an organized Timeline
Bring all your client conversations in a single place with Clientjoy across emails and notes
✅ Automate Your Business:
Generate healthy Leads/Prospects using Email Sequences
Integrate Clientjoy with 3000+ Applications using Zapier, Pabbly, Integromat, Syncspider & Make.
Set up Auto Reminder for Invoice Follow ups, Internal Task & more
⭕Useful Links
✅ 🛒Deal link: https://sendthis.link/clientjoy (use coupon code DOWNLOADSILO to get 15% off)
✅ Trial free account: https://app.clientjoy.io/auth/sign-up
✅ Integrations: https://www.clientjoy.io/integrations
✅ API: https://developers.clientjoy.io/
✅ Help: https://help.clientjoy.io/
✅ Roadmap: https://roadmap.clientjoy.io/
✅ Facebook Community: https://www.facebook.com/groups/clientjoy