📢📢Read full post in Download Silo Facebpook group https://www.facebook.com/groups/downloadsilo/posts/1329128440973074/
📢📢Attend Facebook Live session here https://fb.me/e/DzvEsgCC5
🔥🐕2 Winners ~ GoCharlie "Campaigns In A Click" Product Hunt Launch ~ Facebook Live Session + Giveaway🎁🎁🎁🎁🎁
#gocharlie #giveaway #aiwriter #aiart #webinar #facebooklive
🕙10 pm UTC+8 / 7.30 pm IST / 9 am EST / 3 pm CET
📅Thursday, 26 January 2022
✅🛒Deal link:
✅ I would host co-founder of GoCharlie, Brennan Woodruff. He shall showcase GoCharlie "Campaigns In A Click" launch in Product Hunt.
✅ Two giveaway prizes to be won
x1 Fetch Monthly Subscription for 3 months (value $39/month = total value $117)
x1 Fetch Monthly Subscription for 6 months (value $39/month = toatl value $234)

✅ You must be present during this Facebook live in order to stand a chance to win the giveway
✅ Kindly comment Campaigns In A Click with a GIF to confirm your intention to attend the FB live session.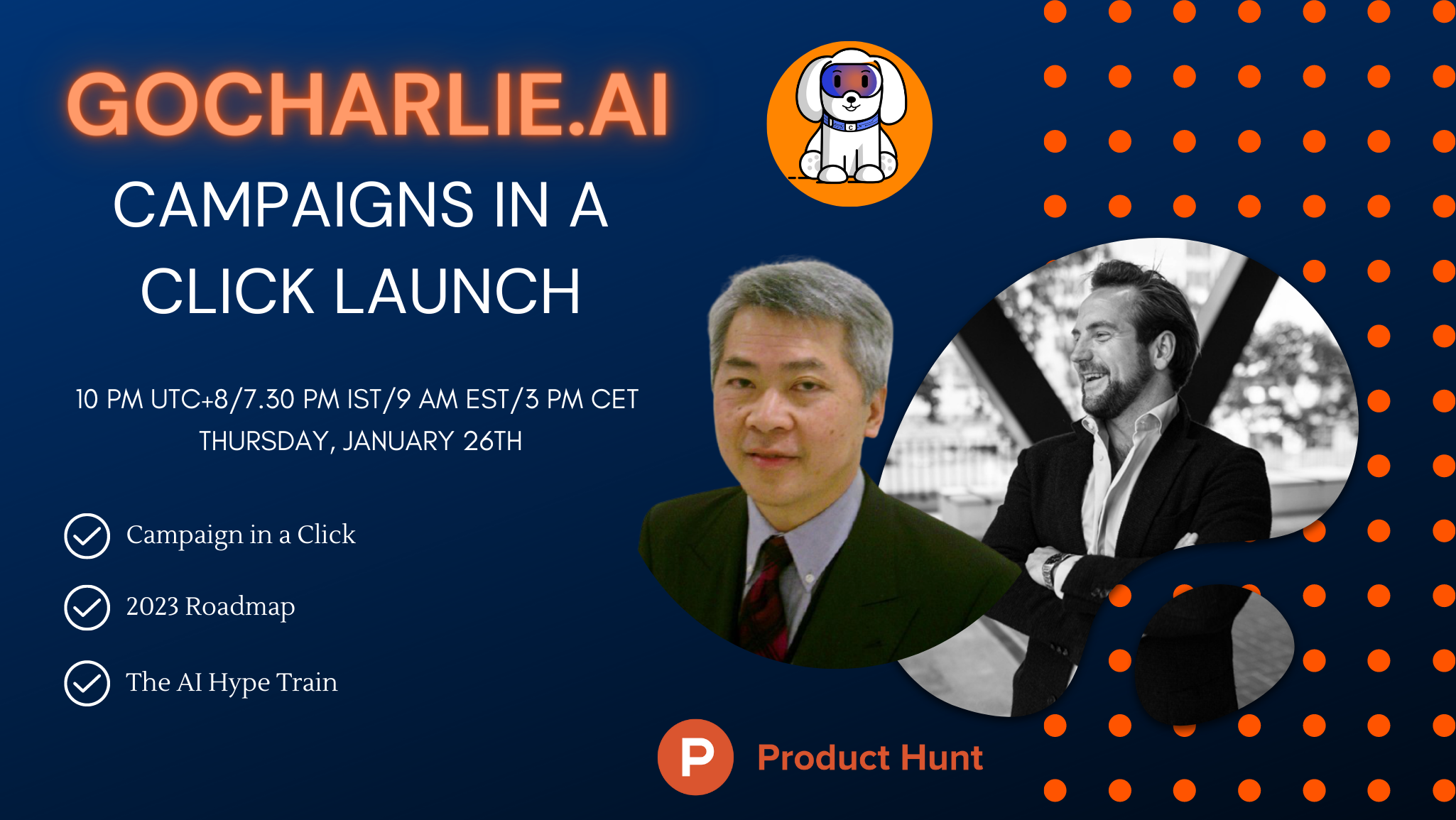 ✅ Please participate in the live session to understand the product and get your queries clarified from Brennan Woodruff
✅ Please give permission to Wave.video to display your profile and name during the live session, when you post a comment or query by going to the following link https://wave.video/lives/facebook
✅ This will help in ensuring that you are part of the giveaway. In case your name and profile are not displayed, please comment with your name.
✅ Giveaway would be announced during the session and will need to be accepted by being present during the live session, else it would be forfeited.
===
⭕ What is GoCharlie?
✅ Charlie is an AI engine that's the new GEAR in your content creation process.
✅ Generate, Enhance, Analyze and Respond to social media marketing content.
✅ Charlie has been trained to optimize content and convert your audience into paying customers.
✅ As a bonus, he can generate HD, 2K, 4K, widescreen, vertical and square images.
✅ In addition, he can create highly engaging blogs and other text content for branding and marketing needs.
⭕ TL;DR
✅ AI generation of blog posts and social media ads, captions, posts (plus 50+ use-cases)
✅AI generation of Images and Art - Turn text into 4K, Vertical and Widescreen images
✅ Content Repurposing - Turn a YouTube video into a helpful, insightful and SEO friendly blog in 60 seconds!
✅ Alternative to: Jasper, CopyAI, Scalenut
✅ Best Suited for Agencies, Social Media Influencers, Content Creators
⭕Useful links😇
✅🛒Deal link https://go.downloadsilo.com/gocharlie
✅ Support: support@gocharlie.ai
✅ Free forever account: https://dashboard.gocharlie.ai/
✅ Roadmap:
✅ Facebook Community: https://www.facebook.com/groups/621410665627574